Thai Traditional Medicine Approach to Massage (5 days)

An overview of the rich Thai traditional view of therapy.

7 to 11 Aug. 2023
Like Abhyanga in the Ayurvedic traditional system, Tuina in the traditional Chinese medicine, Nuad Boran, the Thai traditional massage belongs to the Thai traditional medicine universe.

Foreigners when they learn Thai massage are rarely exposed to the unique and rich Thai traditional view of therapy. 
It is why Sunshine invited an experienced traditional therapist to take you through a 5 day exploration of this traditional approach.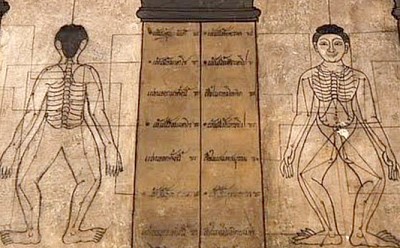 The famous charts in Wat Po, showing the traditional way to represent the meridians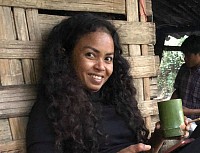 Your host for this workshop

You may have heard about Waree (Pensiri Matchachan). She has been teaching and giving treatments for more than 10 years now. She also well known around here for her abdominal massage combined with acupressure.

As an experience practitioner she is happy to guide you through an inspiring overview, both theoretical and practical, of the foundations of the Thai traditional system.

She is a certified from the Thai Ministry of Public Health, in Traditional Thai medicine, specialized in Thai massage.
What Waree would like to share with you in this workshop:

After having successfully completed this workshop, you will have a better understanding, and we hope, find inspiration from the traditional framework.

You will be introduced to the traditional Thai medicine theory, how a diagnostic is conducted and how a treatment is determined.
The teacher will share with you some particular therapeutic points, an overview of Thai abdominal massage and Foot reflexology techniques together with reviewing a few Thai massage techniques.

The goal is also to provide guidance in the combination of these techniques to help you better integrate them in your own practice.
Everyone with a background in Thai massage is welcome.
7 to 11 Aug. 2023 5 days / 30 Hours 

THB 12,500.-      (approx. EUR 336.-, USD 360.-)

Day to day overview


Day 1: Experiences exchange

The first day is dedicated to an overview of the Thai Traditional system and its diagnostic methodology.
This Time is also to try to understand how you could benefit from this approach in your own practice.
Students will each other a one hour massage, as a starting point for your teacher to better understand what you could need.

Day 2:  Therapeutic points massage
We are going to list and practice over a few classic therapeutic pressure points, corresponding to several symptoms

Day 3:  Abdominal massage
When it comes to treatments, Waree is pretty known for her therapeutic stomach massage. She will take you on an overview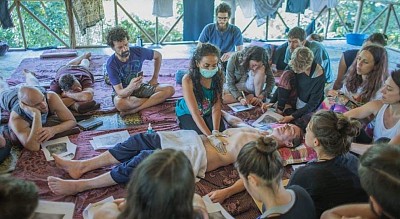 Waree teaching stomach massage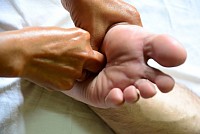 During a treatement
Day 4 : Thai foot reflexology massage

Waree as a pretty unique and interesting way to combine work on the feet within the whole treatment. More especially, If you are already giving treatments you will find this initiation very inspiring.
See how Interacting with the points on the feet can be done within a more general massage, and more specifically when the treatment is focused on the abdomen.


Day 5:  How to fix timing on a session
At the center of this day is practice.
What are the different elements we could consider when we are planning a treatment?
The organization of a treatment, the timing, and paying attention to sensations are among the main topics.

You will be giving a one hour treatment keeping your eyes closed. A good opportunity for your teacher to give you feedback.