Advanced Thai Massage: Side Position ( 5 days )

Developing techniques and whole body massage in the side position.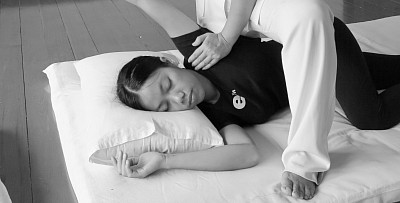 Massage in side position allows to work on specific places more effectively.
Next course : 13 to 17 March 2023

This course is designed to help you develop specific techniques and a whole body massage in the side position.
This approach is relevant to massage people with back pain and/or pregnant women.
As your practice of Traditional Thai Massage develops, you come to realize that an important proportion of your clients come for relief of back pain or emotional issues. Working from the side position also allows recipients to turn inwards, toward themselves, allowing the masseuse to gently facilitate the healing of emotional and physical blocks.

With pregnancy and back problems, it is often too painful to lie in the supine or prone position, but from the side position, you can still offer a complete Thai Massage treatment.
Thai Yoga Massage for pregnant women.
How to relieve back pain, both chronic and acute.
Assisting people in an emotional state and those who have difficulty connecting with themselves.
Whole body Thai Yoga Massage in the Side Position.
Everyone with a background in Thai massage is welcome.
5 days / 30 CE Hours  –  Baht 8'500.-

Future classes:
2023:

6 to 10 February 2023
13 to 17 March 2023
24 to 28 April 2023
29 May to 2 June 2023
26 to 30 June 2023
17 to 21 July 2023
14 to 18 Aug. 2023
25 to 29 Sept. 2023
23 to 27 Oct. 2023
11 to 15 Dec. 2023
This Side Position course is often taken with the Advanced & Stretches. 
It is conveniently scheduled the following week: