Advanced Thai Massage: Side Position ( 5 days )

Developing techniques and whole body massage in the side position.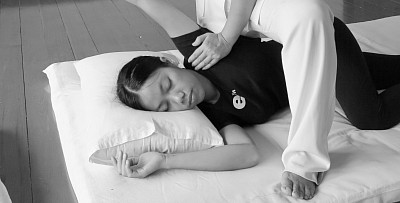 Massage in side position allows to work on specific places more effectively.
This course is designed to help you develop specific techniques and a whole body massage in the side position.

This approach is relevant to massage people with back pain and/or pregnant women.
As your practice of Traditional Thai Massage develops, you come to realize that an important proportion of your clients come for relief of back pain or emotional issues. Working from the side position also allows recipients to turn inwards, toward themselves, allowing the masseuse to gently facilitate the healing of emotional and physical blocks.

With pregnancy and back problems, it is often too painful to lie in the supine or prone position, but from the side position, you can still offer a complete Thai Massage treatment.
Thai Yoga Massage for pregnant women.
How to relieve back pain, both chronic and acute.
Assisting people in an emotional state and those who have difficulty connecting with themselves.
Whole body Thai Yoga Massage in the Side Position.
Everyone with a background in Thai massage is welcome.
5 days / 30 CE Hours  –  Baht 8'500.-

Advanced Thai Massage & Stretches
Our experienced teachers are here to help you get deeper in your Thai massage practice.
This course helps you understand the reasons behind some techniques and how to apply them more precisely. You will gain a broader perspective of your whole massage treatments. In this course you will learn a variety of specific techniques and alternative approaches.
Topics:
• Solidifying techniques taught in our primary courses (Beginners' Courses).
• Expanding techniques to a wide range of body types and health conditions.
• Focusing on correct posture and precise energy line work.
• Learning more techniques and stretches.
• Using feet, elbows, knees with precision specific to your body type.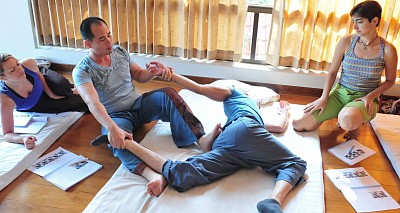 stretch in side position
Upcoming Advanced Thai Massage Courses and workshops in Chiang Mai.
Sunshine is open !
As usual, Our 10 day beginner's course starts every Monday.
2022, Advanced & Workshops:
Monday, 22 to 26 August

5 days / 30 hours, Baht 11.500.-

Saturday, 27 August 2022

1 day / 6 hours, Baht 2.000.-

Monday, 29 Aug. to 2 Sep. 2022
5 days / 30 hours, Baht 8.500.-
Monday, 29 August to 2 September 2022
5 days / 30 hours, Baht 10.000.-
 Monday, 19 to 23 September 2022
5 days / 30 hours, Baht 8.500.-
Monday, 19 September 2022 to 30 September 2022
10 days / 60 hours, Baht 17.000.-
Monday, 26 to 30 September 2022
5 days / 30 hours, Baht 8.500.-     
Monday, 3 to 7 October 2022
5 days / 30 hours, Baht 8.500.-    

Saturday, 8 October 2022
1 day / 6 hours, Baht 2.000.-

Monday, 10 to 14 October 2022
5 days / 30 hours, Baht 10.000.-      
Monday, 17 to 21 October 2022
5 days / 30 hours, Baht 8.500.-      
Monday, 24 to 28 October 2022
5 days / 30 hours, Baht 8.500.-     
Monday, 31 October to 4 November 2022
5 days / 30 hours, Baht 8.500.-    

Saturday, 5 November 2022
1 day / 6 hours, Baht 2.000.-    
Monday, 7 to 11 November 2022
5 days / 30 hours, Baht 10.000.-      
Saturday, 12 November 2022 (09:00 to 12:00)
Introduction to Thai Acupressure 
free
Monday, 14 to 25 November 2022
10 days / 60 hours, Baht 22.000.-     
Monday, 28 November to 2 December 2022
5 days / 30 hours, Baht 12.500.-    
3 December 2022
Free introduction to Oncology + Trauma
5 to 9 December 2022
5 days / 30 hours, Baht 11,500.-
Monday, 5 to 9 December 2022
5 days / 30 hours, Baht 8.500.-     
Monday, 12 to 16 December 2022
5 days / 30 hours, Baht 8,500.-     
12 to 16 December 2022
5 days / 30 hours, Baht 11,500.-
Saturday, 17 December 2022
1 day / 6 hours, Baht 2.000.-  
Monday, 29 to 23 December 2022
Thai Traditional Medicine Approach
5 days / 30 hours, Baht 12,500.-
Monday, 19 to 23 December 2022
Baht 8,500.-    

5 days / 30 hours, Baht 8,500.-
Saturday, 24 December 2022
1 day / 6 hours, Baht 2,000.-
Monday, 26 to 30 December 2022

5 days, 30 hours, Baht 10,000.-
2023:
2 to 6 January 2023

5 days / 30 hours, Baht 13,500.-
9 to 13 January 2023
5 days / 30 hours, Baht 13,500.-
16 to 20 January 2023
5 days / 30 hours, Baht 12,500.-
23 to 27 January 2023
5 days / 30 hours, Baht11,500.-
30 Jan. to 3 February 2023
Abdominal Chi Massage Level 1
5 days / 30 hours, Baht 11,500.-


6 to 10 February 2023
Abdominal Chi Massage Level 2
5 days / 30 hours, Baht 12,500.-
27 February to 3 March 2022
5 days / 30 hours, Baht 13,500.-
6 to 17 March 2023

10 days / 30 hours, Baht 17,000.-
Monday, 7 to 11 August 2023
Thai Traditional Medicine Approach
5 days / 30 hours, Baht 12,500.-