Advanced Thai Massage & Stretches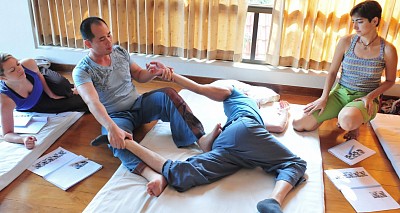 stretch in side position
Our experienced teachers are here to help you get deeper in your Thai massage practice.
This course helps you understand the reasons behind some techniques and how to apply them more precisely. You will gain a broader perspective of your whole massage treatments. In this course you will learn a variety of specific techniques and alternative approaches.
Topics:
• Solidifying techniques taught in our primary courses (Beginners' Courses).
• Expanding techniques to a wide range of body types and health conditions.
• Focusing on correct posture and precise energy line work.
• Learning more techniques and stretches.
• Using feet, elbows, knees with precision specific to your body type.
Everyone with a serious background in Thai massage is welcome.
5 days / 30 CE Hours     Price Baht 8,500.-
Next courses:
  2019:
4 to 8 November 2019

16 to 20 December 2019
2020:
17 to 21 February 2020
23 to 27 March 2020
8 to 12 June 2020
6 to 10 July 2020
24 to 28 August 2020
5 to 9 October 2020
2 to 6 November 2020
21 to 25 December 2020