Advanced courses in Traditional Thai Massage
Beyond the beginners course
Sunshine Massage School in Chiang Mai is famous for the quality of its Thai Yoga Massage Beginner's course. This is the foundation for further studies and also a perquisite for the Advanced Thai Massage courses proposed on this site.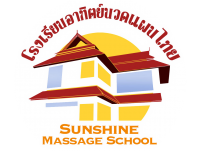 Advanced Thai Massage courses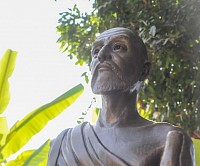 Our representation of Jīvaka Komarabhācca in the garden
Customised programs for extended and intensive Thai Massage studies are available:
We understand that students coming to Sunshine Massage School are here for serious studies.
Often students have a limited amount of time in Chiang Mai and would like to maximize their study by combining courses into one longer, more comprehensive program.
Each of our courses can be taken individually, or as part of a larger curriculum comprised of multiple courses.
Among the many interesting courses offered here:
Advanced Thai Traditional Massage: Side Position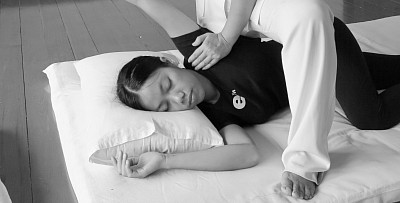 Massage in side position allows to work on specific places more effectively.
Developing techniques and whole body massage in the side position.
This course is designed to help you develop specific techniques and a whole body massage in the side position.

This approach is relevant to massage people with back pain and/or pregnant women.
As your practice of Traditional Thai Massage develops, you come to realize that an important proportion of your clients come for relief of back pain or emotional issues. Working from the side position also allows recipients to turn inwards, toward themselves, allowing the masseuse to gently facilitate the healing of emotional and physical blocks.

With pregnancy and back problems, it is often too painful to lie in the supine or prone position, but from the side position, you can still offer a complete Thai Massage treatment.
Thai Yoga Massage for pregnant women.
How to relieve back pain, both chronic and acute.
Assisting people in an emotional state and those who have difficulty connecting with themselves.
Whole body Thai Yoga Massage in the Side Position.
Advanced Thai Massage with the Feet
Protect your wrists and save energy in your practice
In this course with Ralf Marzen  you will learn how to give a complete Thai Massage using only your feet. 
Using your feet in Thai Massage has many benefits for both giver and receiver. Incorporating this new way of working into your massages will make a big difference to your practice.
We will cover the general principles and body mechanics of this working style as well as a multitude of effective and creative techniques. 
In this course you will learn how to
Protect your wrists and shoulders from overuse or injury and last longer as a therapist
Give deep pressure for big or strong clients without straining yourself
Focus on strong grounding for both yourself and your client during a treatment
Work with less 'doing' and effort in your practice
Release subtle energies so that your own system stays clear during and after a treatment
Work with more creativity and full embodiment
You can also visit the 2 other websites from Sunshine:
As you know, Sunshine is renown for its Beginners Course:
These courses run for 2 weeks and start on Monday of every week. Click this link to visit the Beginners Thai Massage Course website.
Sunshine also facilitates bodyworkers dedicated workshops.
School for Traditional Thai Massage in Chiang Mai, Thailand
Accredited by the Thai Ministry of Education and Thai Ministry of Health.