Thai Style Head Massage
with Sukha Wong

A lot of people store a lot of tension in the neck area.

Knowing how to massage the head, neck and upper body is beneficial.
Thai Head Massage is a popular treatment working on the face, scalp, neck, shoulders and upper back.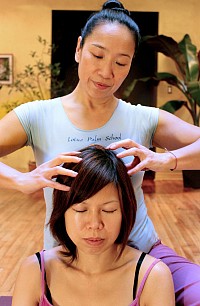 A variety of massage techniques will be taught in this workshop ...

... including Champissage which combines head massage with a more subtle form of energy balancing. Using firm, gentle rhythm to relieve tension and pain, while Ayurvedic chakra balancing focuses on the three higher Chakras. This will bring the energy of the whole body back into balance creating a deep sense of peace and calm. It can ease a number of discomforts in the face, neck and shoulder areas. This can be a stand alone massage, or you can add elements into your own Thai Massage.

This can be a very beautiful end to any massage.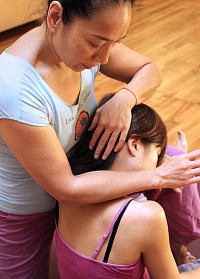 Thai Head Massage is an uplifting treatment that concentrates on relieving upper body tension.
We begin with an invigorating scalp massage and acupressure points that boosts circulation followed by gentle and slower techniques incorporating oils to break down any remaining tension and release toxins leaving the recipient feeling balanced and totally relaxed.
Prerequisite – Open to All
2 days / 13 hours, Baht 4,500.-
Next:
28/29 December 2019 (weekend)