Assisted Yoga Adjustment

Advanced Stretching techniques by assisting your patient in Yoga Asanas

6 to 10 Nov. 2023, with Kenneth Chen.

Designed for yoga teachers and massage practitioners.
This highly practical class is aimed and designed for teachers who wish to assist their students during stretches, massage and relaxation. It blends in the essential elements of yoga posture with Thai massage based therapeutic yoga assist stretching.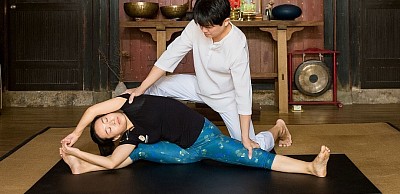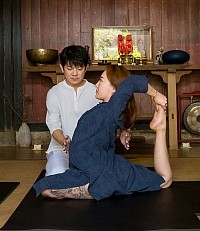 Learning Safe and Effective Yoga Pose Adjustments with Passive Yoga Massage Techniques
Objective In this class, you will learn how to safely adjust yoga poses using passive yoga massage tactile techniques.
With a good reading physical and mechanical understanding, you will be able to discover disorders and how to correct them correctly.
Techniques such as balancing and levering the recipient's body with yourself, gradual contact and correct positioning, will allow the practitioner to adjust with confidence, precision and depth.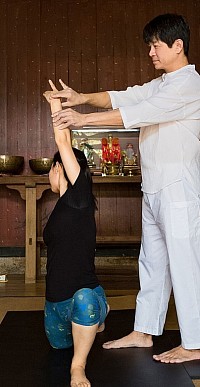 learn how to adjust a yoga asana
Course content

Learn to read body alignment (introduction to anatomy concepts).
Learn the timing and method of adjustment (positioning, reading the body, various touch techniques).
Learn detailed poses (including sun salutation, standing, sitting, lying and shavasana).
Variants: How to customize your class by better understanding student body alignment, limitations, and injuries.
Body mechanics, body reading, progressive approach and different tactile techniques
 
You will also learn a Sequences of warm up with stretching. to utilize with assisting the practitioner to deepen ones experience within a posture.


Next:

6 to 10 Nov. 2023, 5 days, 30 hours.

Baht 12,500.- (approx. EUR 330, USD 360)